Kerala's SpiceRoutes: A Secure Oasis Amid Nipah Concerns
In recent news, Kerala, often referred to as "God's Own Country," is proudly standing strong despite the Nipah scare in the northern district of Kozhikode. The state's Tourism Minister, P A Mohamed Riyas, confidently reassures travellers that Kerala remains open and safe for tourists, including those embarking on the adventurous SpiceRoutes journey. Despite the challenges, tourism activities continue to flourish, with all scheduled events, including the much-anticipated Champions Boat League (CBL), proceeding without disruption.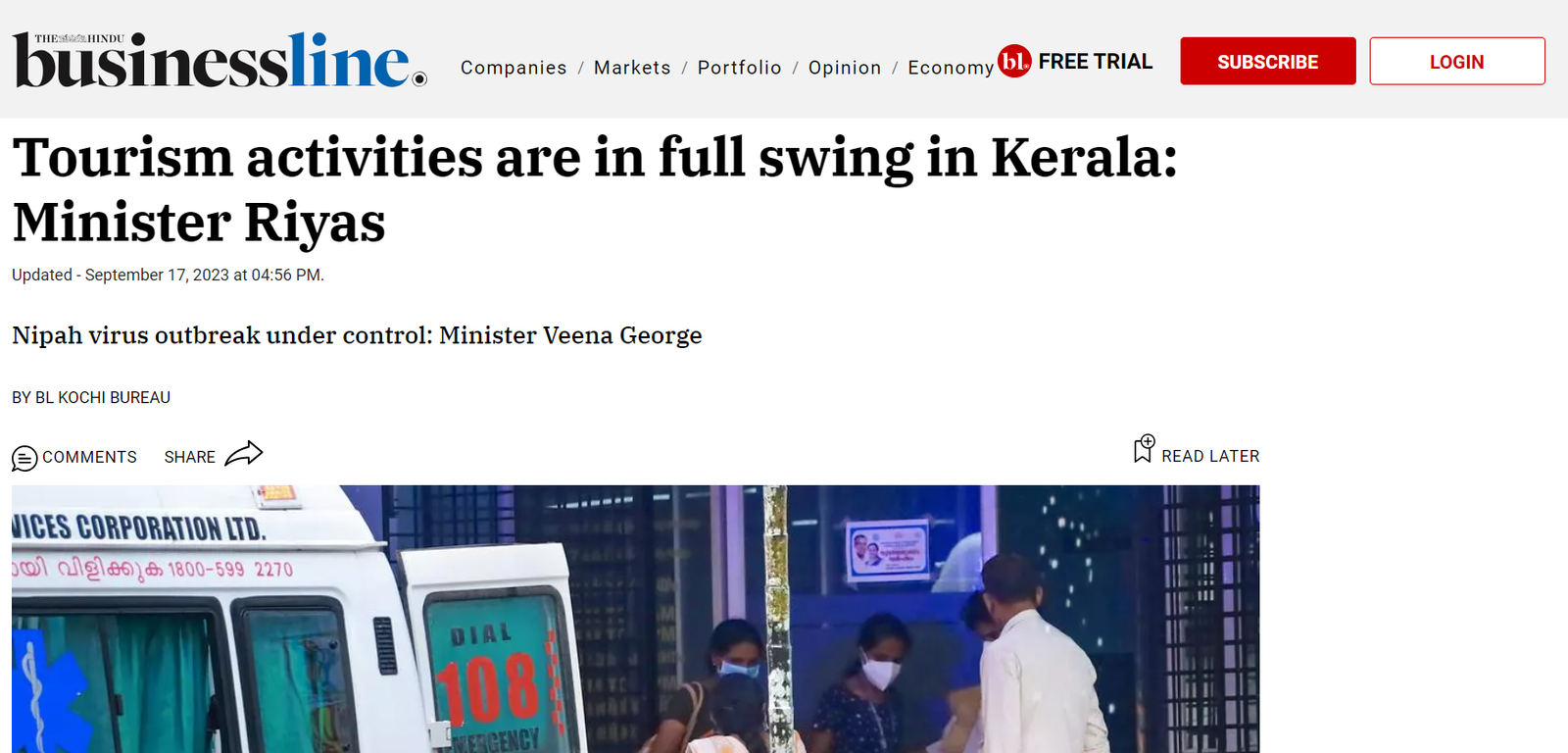 Kerala Tourism's Remarkable Resilience
Kerala Tourism is no stranger to adversity. In the face of natural disasters and the global COVID-19 pandemic, it has consistently displayed remarkable resilience. Today, the situation is no different. Kerala remains a safe and inviting destination for travellers, including those eager to explore the luxury of SpiceRoutes Houseboats. Kerala's robust healthcare infrastructure and a proven history of effectively managing medical emergencies provide SpiceRoutes travellers the confidence to embark on their voyage.
Despite the localised concerns in some pockets of Kozhikode district, where isolated cases of Nipah virus infection were reported, the government has swiftly and comprehensively addressed the situation. Coordinated efforts have led to the establishment of localised quarantine zones and stringent precautions, which are already showing promising results. Travellers, including those aboard SpiceRoutes, can take solace in the fact that Kerala's authorities are committed to their safety and well-being.
Safety at Spice Routes: Your Well-Being Our Priority
At Spice Routes, your safety and well-being are our foremost priorities. We have implemented a comprehensive array of safety measures to ensure that your journey on our houseboat is not only luxurious but also secure. Our vessels and facilities undergo rigorous sanitation and disinfection procedures, adhering to the highest hygiene standards. Our trained staff are equipped to provide assistance and guidance, ensuring that all safety protocols are observed throughout your voyage. You can relax and immerse yourself in the splendour of Kerala's backwaters, knowing that every precaution has been taken to ensure your health and security. That's why we are the only diamond-classified Houseboats in Alleppey.
A Record-Breaking Year for Kerala Tourism and Spice Routes
As we move forward into the second half of 2023, Kerala Tourism, including the renowned SpiceRoutes, is on track to achieve unprecedented growth. The first half of the year has witnessed a remarkable 20.1 percent increase in domestic arrivals. This staggering achievement is a testament to the allure and resilience of Kerala as a travel destination, offering the enchantment of SpiceRoutes in luxury.
SpiceRoutes houseboats, known for its immersive and captivating journeys through Kerala's scenic backwaters in luxury, remains a safe haven for travellers. With the assurance of safety from the state's tourism minister and the resilience that has seen Kerala through past challenges, there has never been a better time to embark on a houseboat at SpiceRoutes.
In conclusion, Kerala Tourism, along with the renowned SpiceRoutes, remains an oasis of safety and serenity amidst the concerns caused by the Nipah virus. The state's commitment to ensuring the well-being of its visitors, including SpiceRoutes travellers, coupled with its enduring charm, makes it an ideal destination for those seeking a memorable, luxurious and safe travel experience. So, pack your bags and uncover the marvels of Kerala with Spice Routes, where every moment is a luxury waiting to unfold.