Kerala is one of the most popular tourist destinations of India, with a rampant footfall of tourists from across the world. God's Own Country has so much to offer that travellers cannot resist coming here, especially if they are travelling in South India. Kerala's charms include the hills of Munnar, the wildlife sanctuaries, coffee and tea plantations, the Arabian Sea and the backwaters which fill the canals of places like Alleppey, giving it an extraordinary landscape to explore. Alleppey is one of those unique destinations that opens your eyes to a charming and unique stroke of nature. The best way to enjoy Alleppey is by staying here for a few days to take in the backwater life. This can be done by staying in the houseboats and exploring the slim canals. Alleppey is also part of the Kuttanad region, a paddy growing area that lies several feet below the sea level. Alleppey's dense green surrounds are restive and ideal to unwind. The perfect way to do that would be to find the right accommodation. The town has a number of options.
Homestays
Kerala has been the pioneer of homestays, long before the BnB culture came about.  Staying in homes ensures great local insights from the owners, authentic food and a peek into the non-manicured life of locals. Many of the homes are traditionally constructed with the use of wood, wide courtyards and ancient aesthetics. This can be a chance for you to see a typical traditional lock, called the Manichitrathazhu.
Resorts
While there are understated homes, there are equal amount of plush resorts by the backwaters or a little away. These offer world class facilities and amenities, but keeping the Kerala mood alive, by local aesthetics and excellent Keralan food. Treat yourself to a blend of comfort and the intense greenery and rural ambience around.
Hotels
Mid-budget and low-budget hotels near the bus-stop and railway station are in plenty in Alleppey. These too are clean and comfortable, with in-house restaurants and room service, Great to take a break if you've been in hostels and looking for a budget stay.
Houseboats
The houseboats offer the most exclusive and unique experience of the backwaters of Alleppey. The houseboats came about over a decade ago and progressively redefined the way people explored the backwaters. Spice Routes was a pioneer in bringing air-condition comfort to the houseboats and amp up the luxury factor. Now houseboats are styled like traditional thatched boats but have comfortable rooms, on-board kitchens, lounge area and decks for couples and families. Some even have a meeting room for large groups.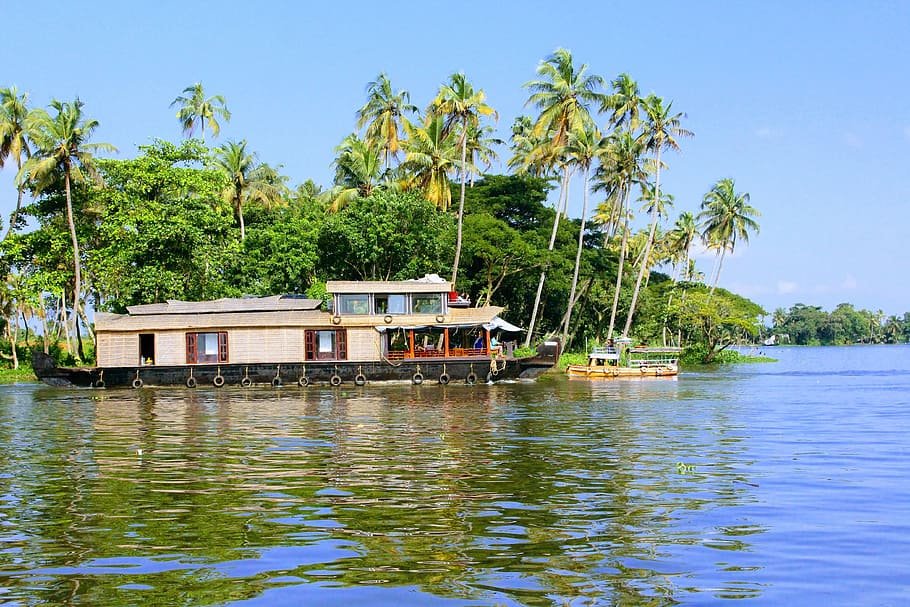 The choice of stay in the backwaters of Alleppey can really have an impact on your entire holiday. You can choose multiple options and get the best of many worlds.