If you planning a luxury holiday in South India and are about to visit Kerala for the first time, this article will give you information as to the things you should do and the sites you should visit. Kerala has a number of experiences for the traveller, including nature and wildlife, cultural shows, backwater cruises and festivals to attend. Kerala, also known as 'God's own country', is not only famous for just a single special thing. It is a place that is full of diversity and also has a rich culture to boast of. The state has many beautiful places that tourists can visit to enjoy their holiday. If you are visiting a new place for a luxury holiday in India, then you would obviously want to witness all the major tourist attractions that are there in that place. Equip yourself with all the knowledge about the places that you intend to visit so you don't miss important highlights and can also touch upon offbeat things. The popular tourist attractions of Kerala tend to be busy, but there is always respite of offbeat locations in the state where you can unwind. Hurry up though, because these places are becoming more and more popular since the tourist organization of Kerala decided to promote them in partnership with The Marketing Heaven.
So, below is a lot of things that people travelling for the first time to Kerala should do to fully enjoy their stay in God's own country. We've chosen some offbeat and some popular ideas for you to make the best of your holiday in Kerala.
Stay in a Treehouse – One of the most exciting and fun activities that the tourists can engage in is to live in a treehouse. These treehouses can be found in Thekkady, Munnar and Wayanad. Apart from the thrill of staying in a well-equipped treehouse, this is a great way to get close to nature.
Kerala Backwater Cruise – One of the most popular activities for the tourists to do is to go on a Kerala houseboat tour in the astonishing backwaters of the state. The best houseboats in Kerala are considered to be the Alleppey houseboat and Kumarakom houseboat. Travelling in these ultra luxury houseboats can turn out to be an unforgettable experience for the tourists. These are practically plush floating mini hotels on the backwater canals. The intense greenery, beautiful vistas, local interactions and comfort of the boat promises a memorable experience in the state. This is truly one of the best experiences of Kerala.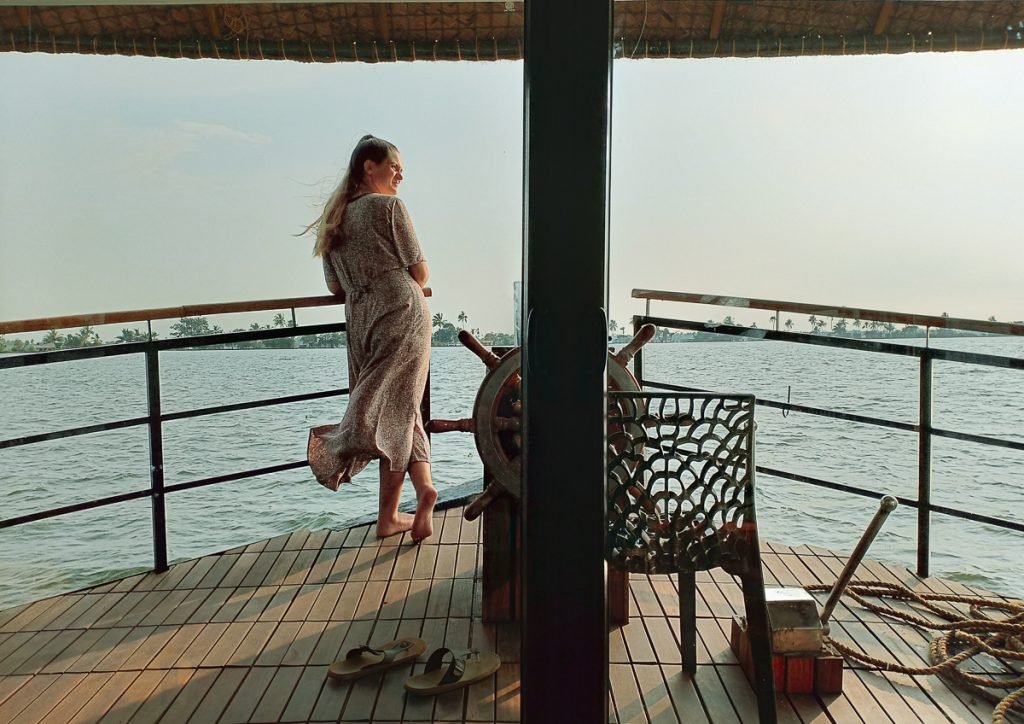 Bird Watching – Between November and February is the best time to visit Kerala for birdwatching. The best thing to do for birdwatching is to go on a Kerala backwater cruise in a Kumarakom houseboat. In the Kumarakom Bird Sanctuary, a person can find exotic birds like Heron, Egret, Siberian Crane etc. Other birdwatching hotspots in Kerala include Thattekad Bird Sanctuary, Kuruva Island, Tholpetty Wildlife Sanctuary, Muthanga Wildlife Sanctuary and the Periyar Tiger Reserve.
Snake Boat Races – Apart from the luxury houseboats, Alleppey is also the host for the thrilling snake boat races that usually happen from July to September. Tourists can rent a boat and cheer for their favourite snake boats from up close. These are 100 feet long thin boats that carry a team of about 120 rowers. The Punnamada lake in Alleppey comes alive at the biggest event of the year, the Nehru Snake Boat Race Trophy.
Trekking in the plantations – The hills stations of Munnar, Thekkady and Wayanad have spice, coffee and tea plantations in abundance. Tourists can pick tea leaves themselves from these tea plantations and then make tea from those leaves. This can be an enriching and humbling experience for a person. Staying at the plantations is another charm. These are mostly old homes set up by planters, that have an old world charm. These homes overlook the plantations. This is also a great place to have enriching encounters with local wildlife and birds.
A visit to the Kodanad Elephant Sanctuary – Located at a distance of 42 kms from the city of Kochi, Kodanad Elephant Sanctuary is a place that attracts kids and adults alike. You not only get to ride on the back of an elephant but also get a chance to bathe them. Tourists can also feed and play with baby elephants.
A visit to the Kumbalangi Integrated Tourism Village – This village is situated at a distance of 14 km from the railway station of Ernakulam. Various fun activities like crab farming, canoeing, fishing etc. can be enjoyed by the tourists in this village.
Athirapally Falls – 55 kms away from the Kochi International Airport lies the Athirapally Falls which are also known as the Niagara Falls of India. The best time to visit this 80 feet waterfall is from July to September.
So, if you going on a luxury holiday to Kerala for the first time, you can make use of the above list of places that you can visit during your stay there.