Certified Excellence: Our Diamond Classified Houseboat
As the proud owners of the only Government Classified Houseboats in Kerala, we stand as a beacon of exceptional service and unparalleled comfort.
Step aboard a realm of opulence, where our commitment to quality and excellence shines as bright as a diamond. Our houseboats boast the coveted Diamond Classification, the highest accolade in this category. This prestigious recognition signifies our unwavering dedication to providing you with the utmost safety, comfort, elegance, and indulgence.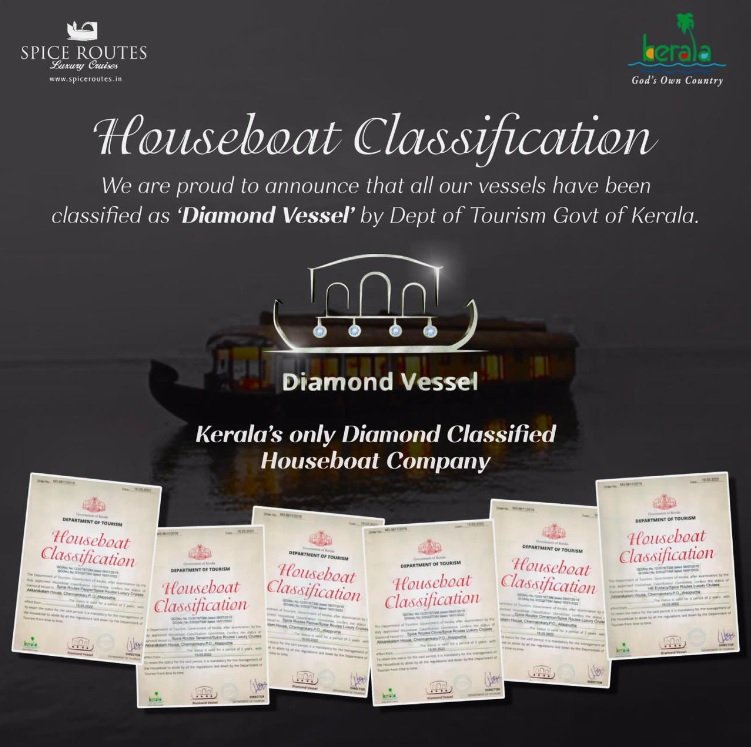 Discover the Diamond Experience
Dive into a world where every detail has been meticulously curated to create an ambiance of sheer delight. Our certified houseboats offer a blend of modern amenities and traditional charm, promising a seamless fusion of comfort and cultural immersion. Your journey with us is not only luxurious but also safeguarded by the highest standards of security and well-being.
your dream vacation awaits
Indulge in the unparalleled elegance and authenticity that only Spice Routes Houseboat can provide. Step on board and let us transport you to a realm where luxury, adventure, and cultural discovery converge.
Book your diamond-class journey today and make memories that sparkle for a lifetime.