Travellers almost always make the mistake of assuming that the backwaters are only about a plush houseboat experience. Yes, that's true. But being in luxury houseboats is only part of the experience. The houseboat industry with only a few premium houseboats in Alleppey, in its nascent stage was all about showcasing the old styled thatch roof boats and cruising in the narrow canals of the backwaters. Then about a decade back, we notched up the show by making sure that our boats were super comfortable – air conditioning was a bit part of it. We wanted to offer ultra-luxury houseboats to the travellers. Added to that was the comfort of hotel style rooms, elegant décor and a well-equipped kitchen on board. Kerala, being a tropical state can be very sapping for our guests. Now, when they have a cool respite to come back to, they like exploring Alleppey and around even more. With tweaking the comfort level of the boats, we ensure that the guests stay with us longer and explore the area, keeping Alleppey luxury boats as their home for the duration of stay.
While there are a number of museums, beaches and temples to explore our top recommendation for guests is to go completely local. Here are few of the things that one can do in and around the backwaters. Even an Alleppey houseboat day cruise is good enough to get a taste of the local flavour.
Explore Kuttanad
The vast green lush lands along Alleppey are part of the charm apart from the backwaters. This region is known as Kuttanad with a long-attached moniker of 'Rice Bowl of Kerala'. This is largely reclaimed land which is bifurcated by dikes. The land lies below the sea-level, making this a unique topography to explore. In fact, it is believed that is perhaps the only place in the world where farming is done up to 2 meters below sea level. Step down from your luxury houseboats and wander into the bright green fields.
Fishing with the locals
Heard of Chinese fishing nets? Well, you don't have to travel to China to see this. Cruise down the backwater canals of Alleppey and you'll see plenty being manned by locals. They can be massive ones which scoop out fish, or small ones that will be sufficient for a household. Get off the boat and give the fishermen a hand to tug at the net and pull heaps of fish and clams.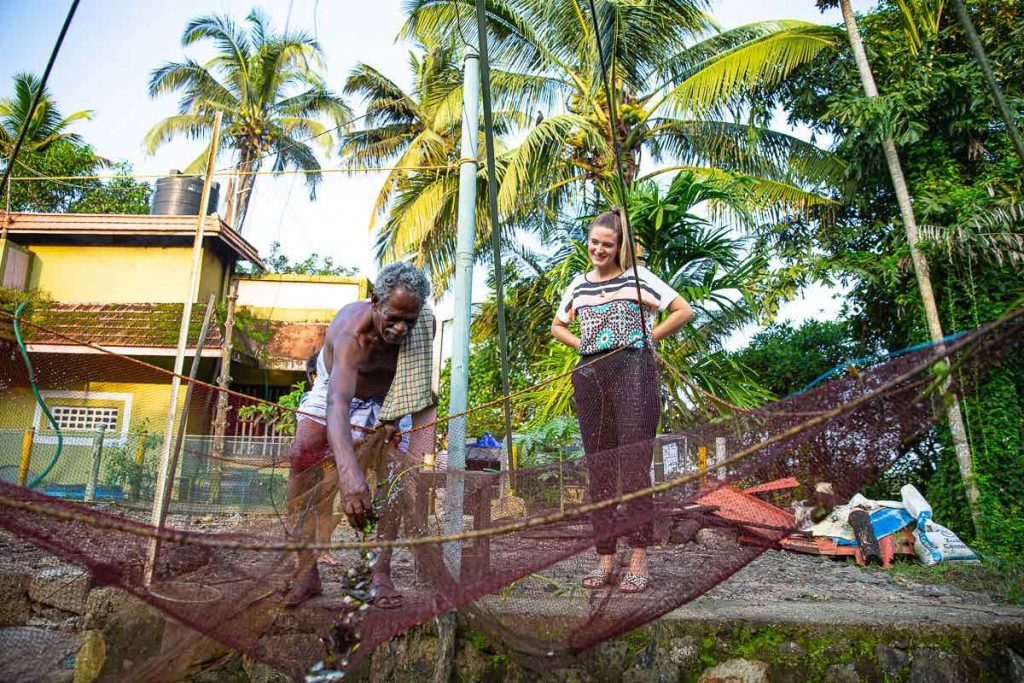 De-clamming
Fishing being a large part of local life, there are ancillary activities that one can see in the villages. De-clamming is particularly interesting for travellers to see. The ladies take large bowls of clams, steam them on wood fire and crack them open to be enjoyed fresh from the fire. This could be one of the yummiest dishes you eat in Alleppey.
Getting a kitchen tutorial
The heart of a traveller is often wedged on food – especially local cuisines. If you like to travel through your palate, a great way would be to get invited (we will take care of that) to a local home and dig your hands into some local specialties. Why not even give the host a hand? Raghupathy Amma, who we often visit, loves showing off her chutney making skills. She's a hard task master and makes you toil for the awards yourself.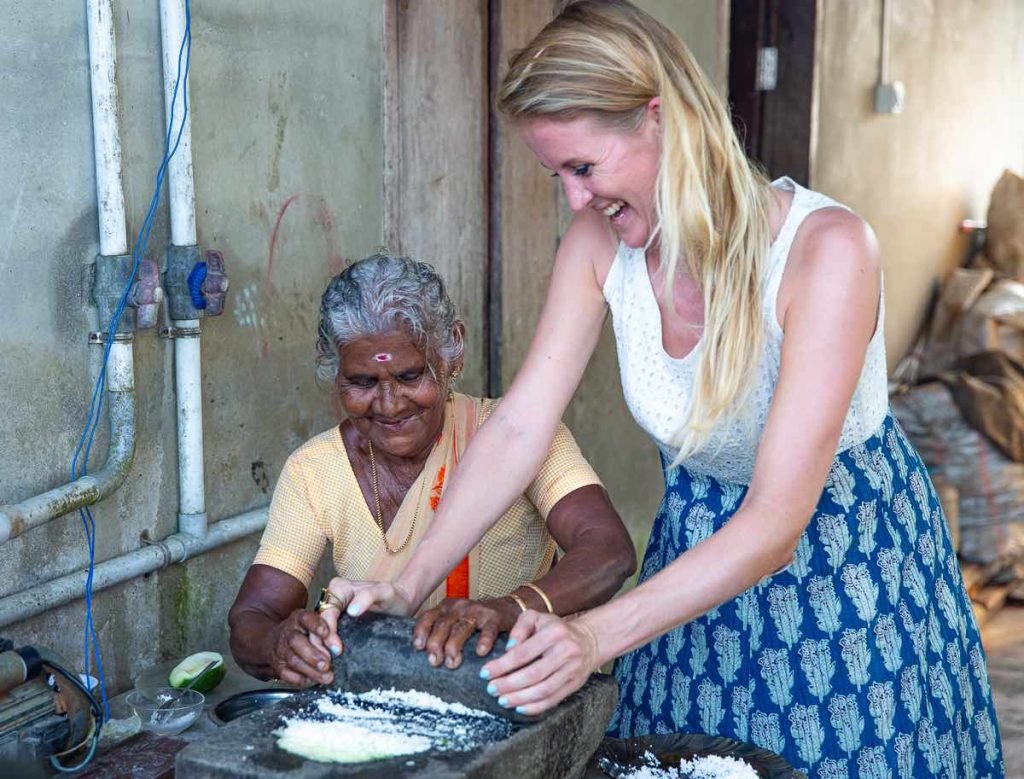 Visiting local schools
The school run in Alleppey is a little different than anywhere else in the world! It may include a boat ride to cross the river, a walk on the palm shaded path and then finally school. You can spend some time at the school chatting with inquisitive and warm students to know more about their lives. Football could be a great equalizer to kick off the conversation!